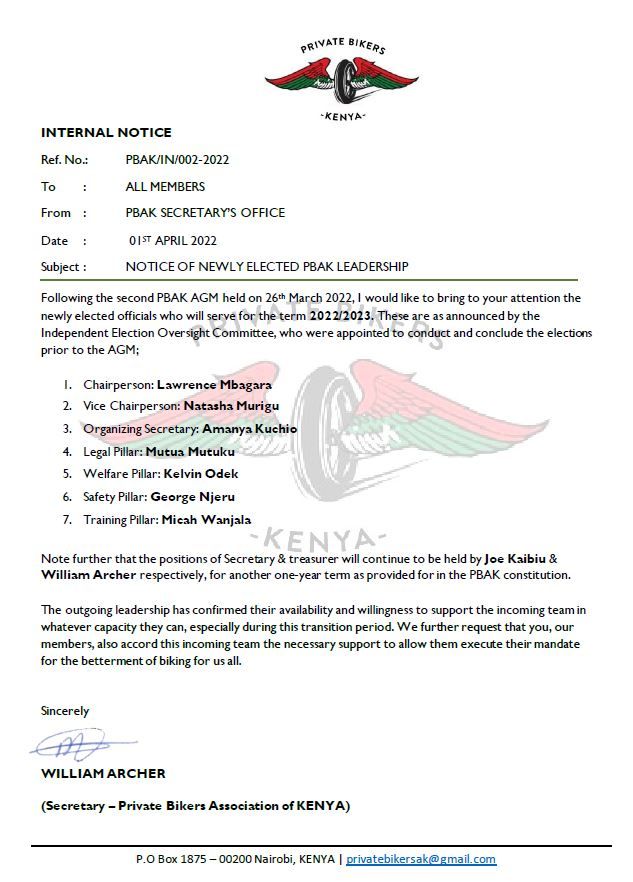 NOTICE OF NEWLY ELECTED PBAK LEADERSHIP
INTERNAL NOTICE
Ref. No.: PBAK/IN/002-2022
To : ALL MEMBERS
From : PBAK SECRETARY'S OFFICE
Date : 01ST APRIL 2022
Subject : NOTICE OF NEWLY ELECTED PBAK LEADERSHIP
Following the second PBAK AGM held on 26th March 2022, I would like to bring to your attention the
newly elected officials who will serve for the term 2022/2023. These are as announced by the
Independent Election Oversight Committee, who were appointed to conduct and conclude the elections
prior to the AGM;
1. Chairperson: Lawrence Mbagara
2. Vice Chairperson: Natasha Murigu
3. Organizing Secretary: Amanya Kuchio
4. Legal Pillar: Mutua Mutuku
5. Welfare Pillar: Kelvin Odek
6. Safety Pillar: George Njeru
7. Training Pillar: Micah Wanjala
Note further that the positions of Secretary & Treasurer will continue to be held by William Archer & Joe Kaibiu respectively, for another one-year term as provided for in the PBAK constitution.
The outgoing leadership has confirmed their availability and willingness to support the incoming team in
whatever capacity they can, especially during this transition period. We further request that you, our
members, also accord this incoming team the necessary support to allow them execute their mandate
for the betterment of biking for us all.
Sincerely
WILLIAM ARCHER
(Secretary – Private Bikers Association of KENYA)