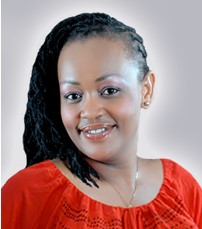 Ciku is the MD of a private tours and travel firm and been in the hospitality industry for over 20 years, a position that has seen her travel far and wide to hone on her specialty: provision of exclusive tour packages for discerning travelers.
Ciku got the motorcycling bug during the 2012 elections when her company, that was managing the transport requirements for the election observers, received deadlines that could only have been met using motorcycle riders. She favors adventure riding and since she started riding, has been to most corners of the country and some neighboring ones including Uganda, Tanzania and Rwanda. No matter how often she ventures off road riding, Ciku maintains that she will always be a 'newbie' on any non-tarmac terrain.
Ciku was a key player in the formation of the first private motorcyclists club and the first ever Nyumba Kumi which she states "will always be my home, no matter where I live". She is also a founding member of Throttle Queens, one of the ladies-only motorcycle clubs in Nairobi. She absolutely believes in sisterhood and empowerment among women riders and says "The power of women gathering is immeasurable". She lives by a code of sisterhood, community, loyalty, love, understanding and respect. For self and others.
Ciku has a passion for travel as a Lifestyle and a passion to share it! When she's not working or riding, she will be communing with nature on walks or hikes, tending to her plants or just being mom.